Connect with your constituents like never before.
Community Fluency is the all-in-one platform that empowers elected officials and community leaders to serve their districts. With our new companion app, a comprehensive toolset, and up-to-date data, you'll have everything you need to succeed.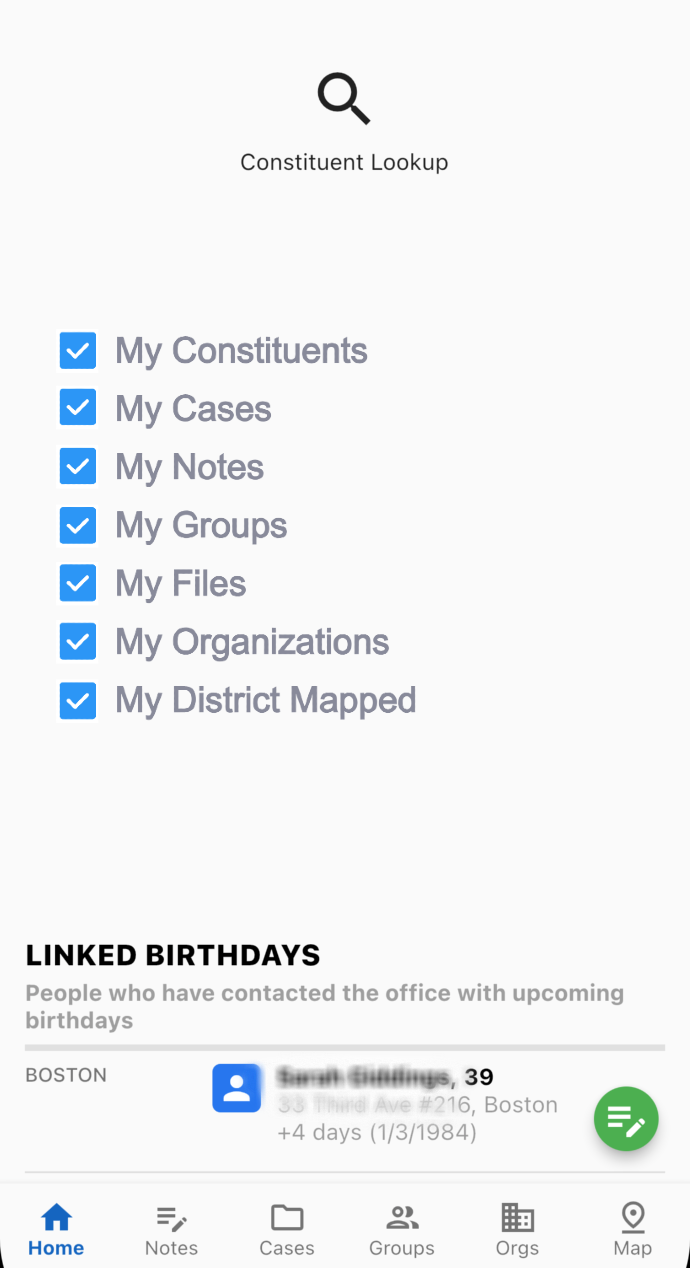 Features that give you superpowers.
Community Fluency was built for elected officials and community leaders who care about their districts. We help you keep track of everything your office does, everyone who has contacted you. Never forget a callback or a birthday again.
Constituent Lookup
You have
34,567
constituents.
Full name
Albert H. Wiggin
Address
123 Fake St. Hamham, MA
Other Residents
Denise Wiggin, Al Wiggin, Jr.
Birthday
12/12/64 (Age 59)
See Voting History
Entire district at your fingertips
You can add your own people to your database, but we start you off with every registered voter in your district. With the new app, immediately look up constituents by name, address, and more.
Groups
Organize your constituents.
Broadway Neighborhood Association
Organize your constituents into Groups
Easily put people into Issue or Constituent Groups. Email or print mailing labels with a single click.
Unemployment Benefits
Case
resolved
with 7 notes
Assigned To
Lej E. Slativade
Closing Remarks
Status for benefits updated 12/2. Mary says thank you!
See all 7 Notes
Complete case management tools
Good constituent service is all about following through. Never miss a response again with our detailed case management tools at your fingertips.
Complete tools and personal support.
With a combined 25 years serving constituents in the Massachusetts State House, our staff has the experience and knowledge to help your office make the most of Community Fluency.
Mapped Addresses

Every valid massachusetts address GIS mapped and color-coded for your convenience.

Encrypted and Secure

We use closed servers and bank-level encryption for your authorization and data.

Send Bulk Emails

Whether to update on legislation or send out a newsletter, send unlimited emails.

One-click mailing labels

Prefer sending letters on paper? Choose a list and print directly to labels.

Upload unlimited files

Keep files where everyone on the team can find them. Upload to groups, constituents, and more.

Collaborate anywhere, anytime

We keep your whole team on the same page -- and even allow you to share cases across teams.
Simple pricing by district.
Whether you're one person on a school committee or a City manager overseeing 5 departments, only pay for what you need.
MA State Representative
$99$1,200
Join over 30 House Members using Community Fluency to organize their offices.
24/7 Customer Support

Unlimited Users

Complete Voter History

Unlimited File Uploads

Around 40,000 Constituents
Get started for free - 617.699.4553
MA State Senator
$199$2,400
You're a member of the massachusetts State Senate looking to keep your office organized.
24/7 Customer Support

Unlimited Users

Complete Voter History

Unlimited File Uploads

Around 120,000 Constituents
Get started for free - 617.699.4553
Custom Massachusetts district
$19+$240+
From school committee member to City office manager to University community liaision, we have just the plan for you.
24/7 Customer Support

All Features

Customized Account Structures

Specialized Training

1,000 to 4.2 Million Constituents
Get started for free - 617.699.4553
Frequently asked questions
If you have anything else you want to ask, reach out to us.
Are you aligned with the Democratic or Republican parties?

No. We, like constituent service, are non-partisan.

Can I get my exact district?

Yes, we can give you any known political district or customized portion of a district you need.

Do you share any of my data?

Your data is your own. Our business model is that this is your database for you and your staff, we do not sell or otherwise track your data for any purpose, and you can always request a full export of all the data on your account.

Where is Community Fluency based?

Massachusetts. Our staff has over 20 years experience at the MA State House as legislative staffers doing constituent service.

How many users can I have?

As many as you want. We help you organize your data, you decide who has access to it.

Do you have campaign tools as well?

We believe good constituent service is the best campaign tool an elected official can have. But yes, we also complete voter data and a suite of campaign tools to help you target your voters and organize your volunteers when it's time for your campaign.

Will you train my staff?

Yes. We work hard to make the system as intuitive as possible, but we offer complete training to you and your staff at your convenience.

I have data from a spreadsheet or another system. Can you load it?

Yes. We will work with you to analyze and import your data to a format compatible with our groups

Do I need to sign a contract?

No. No contract, cancel anytime. We will export or archive all your data at your request.